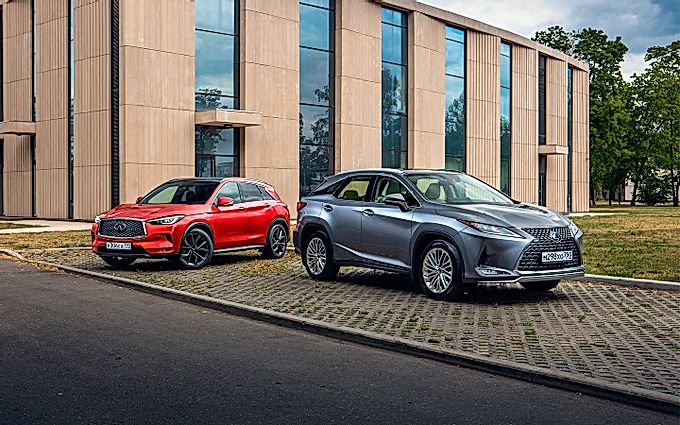 Machine shortages and supply disruptions have driven price tags sky-high. This was not even the case in December 2014, when the ruble fell into a coma, and dealers did not understand what was happening at all. A year ago it was impossible to imagine a Volkswagen Polo for 1.7 million, a Skoda Octavia for 2.5 million and a Hyundai Tuсson for 3.3 million rubles, and now it all looks not even the worst options. It's all about the imposed special stages, without which dealers flatly refuse to sell cars. And often it comes to the point of absurdity.
For example, a few days after the start of sales of the new Land Cruiser 300, we called several dealers - the sellers offered to pick up the Toyota for the retail price tag + 2-3 million rubles. depending on the configuration. "It is possible to order without extra charges, but you will wait 6-12 months. There are no cars, there is a queue behind them, "one of the managers rapped out a typical horror story. He called me back tomorrow and asked when I would drive up from 11 million rubles, otherwise "the previous buyer refused the car." Still would.
It's not all bad for premium brands. BMW, Audi and Mercedes can already be found at discounted prices, while Lexus and Infiniti are increasingly giving away at retail prices. The Lexus RX and Infiniti QX50 look all the more interesting against the background of the distraught mass market - both crossovers are well equipped, offer decent dynamics, and they also have high liquidity in the secondary market.
Infiniti QX50: two motors in one and an honest configurator
"Is it on a chip? It doesn't run in stock, "- either in jest or in earnest, a neighbor in the stream shouted at the Volkswagen Tiguan. Then, however, with bulging eyes, he made excuses that his box was "stupid" and "the wrong gasoline". Infiniti QX50 rides, and how! Here there is 249 hp (although in the US versions the same engine produces 23 more "horses" more), four-wheel drive and a variator. Yes, the latter is not very conducive to dynamic driving, but when necessary, the QX50 churns out the declared 7 seconds to 100 km / h over and over again.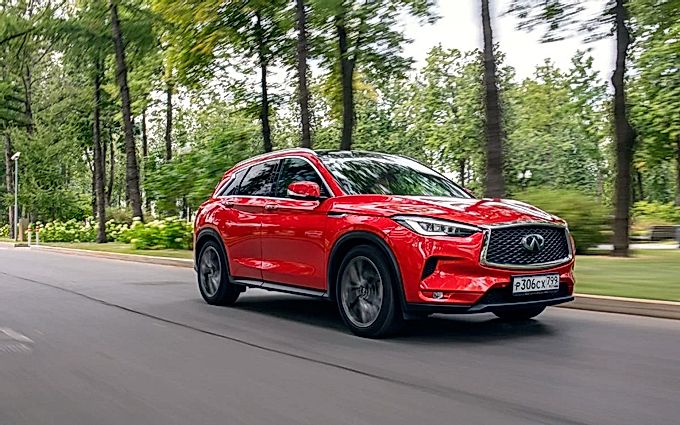 Even at track speeds, the Infiniti QX50 is quiet - despite the 20-inch RunFlat tires. According to this indicator, it is definitely not inferior to the Lexus. Especially considering the fact that the RX is bigger, heavier, and its tires are standard, without the possibility of emergency driving.
Infiniti has one of the most unusual gasoline engines not only in the class, but in the world in general - the supercharged two-liter "four" has a variable compression ratio (from 8.0 to 14.0). The Japanese have spent more than one year and more than one million dollars on sophisticated technology in order, on the one hand, to provide high returns, and on the other, to reduce fuel consumption.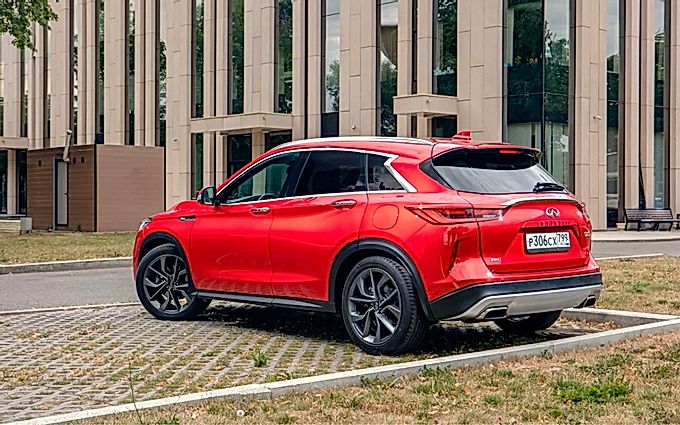 High configuration is given, first of all, by 20-inch wheels. These are only allowed for older versions, the price tag for which is approaching the mark of 5 million rubles.
It feels like there are two motors in one: in Eco mode the QX50 is too thoughtful, but in Sport it is already ready for exploits. To catch this transition, if you just drive in the "Standard", is not easy at first: you do not understand how Infiniti will react to a squeezed accelerator. In case of sudden rearrangements, at first you press lightly - nothing happens, you increase slightly - and the crossover jumps forward sharply. However, on the second or third day, everything returns to normal, and you understand each other without any problems.
The variator, by the way, is set up cool, and it has as many as eight virtual gears. But for several weeks of operation, I used the paddle shifters only a couple of times, and then only for testing. Even in "Sport" the box works delicately.