They are designed for different wallets. The diesel Prado 2.8 (200 hp) only "starts" from 3,563,000 rubles, and Mitsubishi for 3,265,000 without discounts gives such a top version 2.4 Ultimate (181 hp) as a test one. The Toyota that came to us in a comparable "Prestige" configuration is almost a million more expensive.
Such work cannot be called a full-fledged comparative test. Firstly, Prado with an updated 200-horsepower 2.8 turbodiesel (see "Technique") came to me for only ten hours. Secondly, these frame SUVs seem to be no longer competitors. Since they clashed epically on Drive in 2017, Toyota has brought the Fortuner to the Russian market, as well as the Pajero Sport, created on the basis of a pickup truck. Prado is thus formally exempt from duels with comparable sizes, but cheaper Mitsubishi.
Nevertheless, Sport in their conditional group can still be used as a reference car. The preparatory blitz leads to this conclusion: I am assembling Mitzu for the weekend, as well as both Toyota Prado and Fortuner with pre-reform diesel engines. Despite the incredibly tight response of the 180-horsepower engine, the Pajero is the most dynamic in the measurements. It handles clearer even on Yokohama Geolandar A / T tires, which are prone to noticeable drifts. Finally, up to a certain speed, it provides a better ride on bad roads.

The 2017 Prado is more spacious, quieter, and smoother on smooth asphalt. Unfortunately, it is equipped with the KDSS roll-suppression system with hydraulic cylinders in the stabilizer struts, so it handles roughness roughly. The steering wheel is light and empty, it still has the most information ...
The hard and noisy Fortuner allows you to keep a higher speed off-road than the springy Pajero, but it shakes out the soul only in this way. On the ground, in contrast to the stubborn Prado, it demonstrates crazy arrogance. Fortuner also has the most sensitive accelerator in the company and a couple of rudimentary seats in the trunk, equipped with a fifth door servo. The interior design is more fun, but the working position is unbearable. Yes, and a simple transmission with a rigidly connected front end.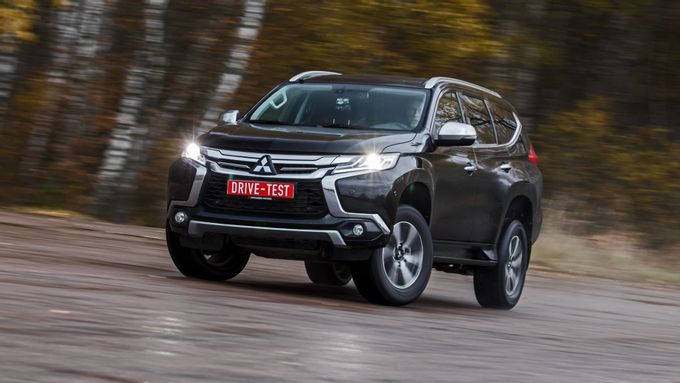 It is not surprising that Fortuner found fewer buyers in three quarters of 2020 - 2050, according to AEB, versus 3951 for Pajero. Prado is almost twice as successful: 7,883 units were sold in nine months. The most popular version - 1445 copies - is the 2.8 Prestige. This is also the test machine. With the same notorious KDSS system. More about it - also in "Technique".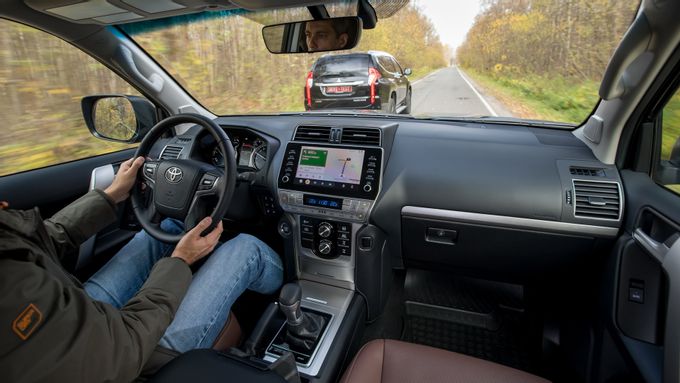 Therefore, Mitsubishi, who lingered in the editorial office, seems not at all superfluous at the presentation of the updated 200-horsepower Toyota. It's for context. He also emphasizes the merits of Pradik, and does not allow to miss the shortcomings. What could be clearer, for example, parallel starts? Previously, Prado lagged far behind, but now, at least not much, it is taking the lead. It seems that the increase for a car weighing more than 2.3 tons - 23 hp and 50 N • m - is small, and the result exceeds expectations.

With one driver in the cabin and a full 87-liter tank, Toyota consistently performs on the special roads of the Bronnitsky training ground for 11.1 seconds to a hundred, despite the resistance of the Dunlop Grandtrek AT22 tires. And her best result is 10.7 s versus 11.5 s for Mitsubishi. In our market, the factory acceleration time for Prado is not published. In Germany, where it is simply called Land Cruiser, and the passport power is 204 hp at the same 500 N • m, 9.9 s are declared.
For Pajero in Russia, 12.3 s are declared. On dry land, using only rear-wheel drive, he is capable of this even with three men in the cabin. It's damp right now, and you have to engage 4WD to avoid slipping. Moreover, the lag behind Prado does not begin immediately, but with a long engagement of the second gear after a short (4.85: 1) first. Further, the ranges change more vividly and the gap almost does not grow.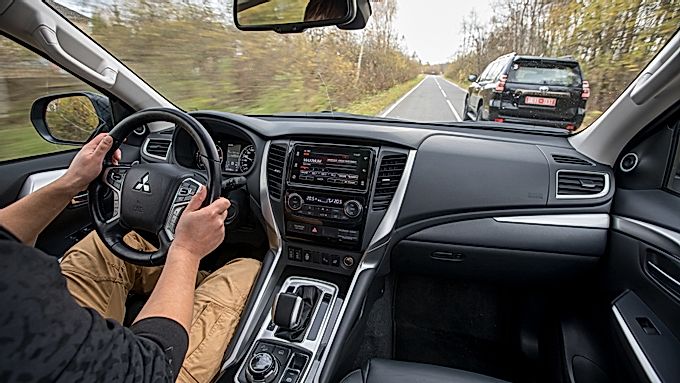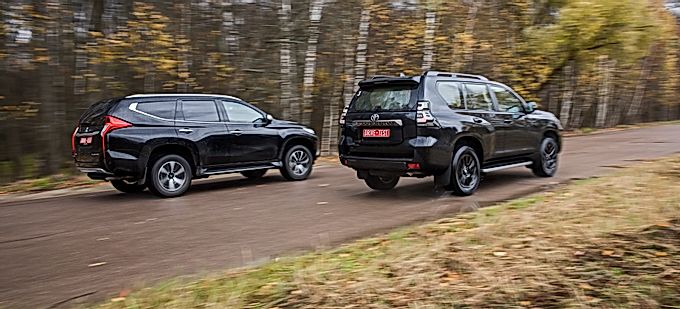 Prado is heavier. But, if the Sport's peak traction is dotted at two and a half thousand rpm, then Toyota's "four" 1GD-FTV produces a maximum torque in the range of 1600-2800 rpm - this is almost a third of the entire working area between idle six hundred and a cut-off at 4300. The LC150 spends less time on shifting, because there are fewer gears in the box: six versus eight for the Pajero. Although Mitsubishi changes them more smoothly, except for the jerk when switching to the second.
Things to know (Q&A)
Is the Toyota Prado better than Pajero?
While most owners won't fuss much over handling, the Landcruiser Prado feels more settled than the Pajero through corners . It sits flatter and the constant all-wheel drive system better manages the distribution of torque when throttling out of corner
Is the Toyota Prado body on frame?
Despite a body-on-frame design making it highly capable off-road, the vehicle was marketed toward on-road use. In Japan, it came with electronic fuel injection and four speed automatic transmission.
Which is better Pajero sport or Fortuner?
CarWale brings you comparison of Toyota Fortuner and Mitsubishi Pajero Sport. The Toyota Fortuner price is ₹ 30.73 Lakh and.
...
Fortuner vs Pajero Sport Comparison Overview.
| Key Highlights | Fortuner | Pajero Sport |
| --- | --- | --- |
| Engine Capacity | 2694 cc | 2477 cc |
| Power | 164 bhp | 176 bhp |
| Transmission | Manual | Manual |
| Fuel Type | Petrol | Diesel |
What car is similar to a Prado?
Competitors like Isuzu MU-X and Mitsubishi Pajero Sport are much cheaper but the Ford Everest has similar pricing while Jeep Grand Cherokee and Land Rover Discovery are more expensive. It's not just new-vehicle buyers who love Prado; the used market chases them to
Which is better Prado or Pajero?
The Toyota Land Cruiser Prado is almost as good as the Pajero. ... In terms of power, the Mitsubishi Pajero has a slight edge because the bigger Mitsubishi 3.2 engine gives it slightly stronger mid-range power. The Mitsubishi Pajero also has a better and more responsive five-speed automatic transmission.
Is Toyota Prado worth buying?
The big-selling Toyota LandCruiser Prado is a large SUV-type wagon with a seven-seat cabin, proven reliability, and peerless service back-up. For a big 4WD vehicle it is very comfortable as a day-to-day family car, but it is also built extra tough and is one of the best choices for long outback trips.
Is the Toyota Prado underpowered?
That's not a lot, and the LandCruiser Prado is by far the biggest and heaviest vehicle to use this powerplant. ... As those paltry numbers suggest, the Prado isn't quick, and can feel underpowered in some scenarios . Hills can be a challenge, especially when you're loaded up and/or towing.
Is Pajero engine reliable?
The Mitsubishi Pajero is actually regarded as a very reliable vehicle , so your experience is not typical. There are several potential causes for this, but the thing I'd check first would be the air filter. ... A blocked or dirty air filter will certainly make an engine blow smoke and operate poorly.
Is Land Cruiser body-on-frame?
Toyota currently manufactures the most body-on-frame SUVs with the 4Runner, Sequoia, Land Cruiser, Lexus GX and LX followed by Nissan with the Patrol, Armada, and Infiniti QX56/80. The Ford Panther platform, which was discontinued in 2011, was the last series of traditional passenger cars to be built in this manner.
What frame is the Land Cruiser on?
The last time there was a new Land Cruiser was when the 200 series launched in 2007. This new model, dubbed the 300 series, has the same body-on-frame construction, but it's built on the new GA-F platform
What is the difference between Toyota Land Cruiser and Prado?
By comparison to its larger counterpart, the Prado is a mid -sized SUV . It's noticeably weaker engine contains a 2982cc with a four-cylinder inline four valves/cylinder, and also a dual overhead camshaft just like the Land Cruiser. ... Instead, it's a four-cylinder inline diesel engin
Is the Toyota Tacoma body-on-frame?
The Toyota Tacoma has a body-on-frame construction , giving it more conventional truck dynamics and overall architecture. ... So, if you're like a lot of drivers from Stockton, CA and you're shopping on a budget, choosing the new Toyota Tacoma is a smarter financial bet.
What is comparable to Toyota Prado?
All four of these models are diesel-powered 4x4 wagons. These models are all seven-seaters. Three of these models are based on dual-cab utes, only the Toyota Prado is purpose-built.
...
Boot space - 7 seats up.
| Model | Score |
| --- | --- |
| Ford Everest Titanium | 9 |
| Mitsubishi Pajero Sport Exceed | 7 |
| Toyota Fortuner Crusade | 7 |
| Toyota Prado GXL | 9 |
Is Land Cruiser and Prado same?
CarWale brings you comparison of Toyota Land Cruiser and Toyota Land Cruiser Prado.
...
Land Cruiser vs Land Cruiser Prado Comparison Overview.
| Key Highlights | Land Cruiser | Land Cruiser Prado |
| --- | --- | --- |
| Engine Capacity | 4461 cc | 2982 cc |
| Power | 262 bhp | 171 bhp |
| Transmission | Automatic | Automatic |
| Fuel Type | Diesel | Diesel |
What is the Lexus version of the Prado?
Lexus GX


Lexus GX
Also called
Toyota Land Cruiser Prado
Production
2002–present
Model years
2003–present
Body and chassis
Which is better Pajero or Prado?
While most owners won't fuss much over handling, the Landcruiser Prado feels more settled than the Pajero through corners. It sits flatter and the constant all-wheel drive system better manages the distribution of torque when throttling out of corners. 29 July 2015