For 2019, Americans bought 99,113 Odysseys, although in the period 2000-2018. demand has consistently exceeded 100,000 units. However, against the general background, this is a good result. The price range of the model is now from $ 30,790 to $ 47,720.
The best way to recognize the updated Odyssey is the black grille of horizontal slats topped with a chrome strip. The winged squiggle has disappeared from not only the front, but also the back: there is now a glossy black finish with the same sparkling stripe. The LED headlights are new, as is the front bumper with fog lights. A variant of 19-inch alloy wheels has been added and the side mirrors are fitted with auto-dimming. Nothing else has changed on the exterior. There are even fewer improvements inside.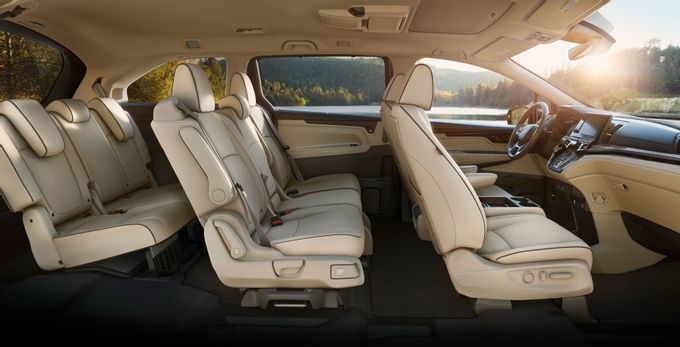 Rear-Seat Reminder, reminiscent of the forgotten in the rear seats. It is stated that the backrests of the second row now fold down to make the seats easier to remove, but this function was before.
The set of trim levels has been preserved (LX, EX, EX-L, Touring, Elite), and the content has been reshuffled. From the EX version, tricolor floor mats and backlit USB ports are now available. Variants EX-L and above received restyled seats with contrasting stitching, lumbar support for the front passenger and pockets in the backrests of the second row. The most expensive versions boast a black piano finish and perforated leather. Safety complex Honda Sensing with adaptive cruise control entered the "base".
The power unit is not affected: the aspirated V6 3.5 (284 hp, 355 N • m) is coupled to the "automatic" by ten steps. The engine and the Odyssey itself are still manufactured in Alabama. The premiere of the modified minivan should take place at the motor show in New York (April 8-19). The main organizer of the exhibition, Mark Schinberg, hopes to hold it, despite the coronavirus and the refusal to participate in the Big Three (Audi, BMW and Mercedes-Benz will be missing the event). 18 "press conferences" are planned (two more than last year) and a show of about 50 cars. Expected debuts - Ford Bronco and Volkswagen ID.4. Pre-ticket sales for the show increased 17% last week.
It was - it is